Background
Silver Fox rabbits are a multi-purpose heritage breed that is used for meat, fur and showing. They are a large docile breed developed by Walter B. Garland of North Canton, Ohio and was the third rabbit breed to be developed in the United States. The standard was approved in 1925. They typically reach a weight of approximately 10 pounds. Silver Fox rabbits have a unique dense fur which resembles the pelt of a Silver Fox. One interesting aspect to the fur is if you rub it against the grain the fur will remain standing straight until smoothed back over.
While most Silver Fox rabbits are black with silver highlights, there are other color variations that occur such as blue, chocolate, lilac and white. Currently only black Silver Fox rabbits can be shown. Typical litters are from 6 to 9 kits which are grown out for approximately 12-16 weeks prior to harvest. Silver Fox rabbits are more docile than other breeds of meat rabbits such as New Zealand which tend to be high strung.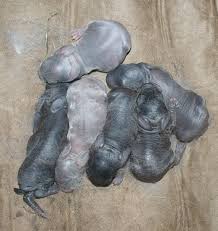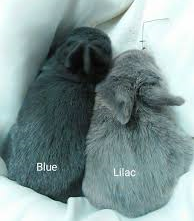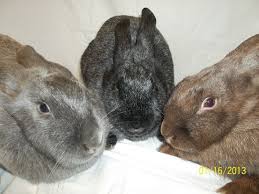 Why breed rabbits?

The Silver Fox rabbits raised at Triple Creek Farms are a heritage breed that is raised by a relatively small number of farms. Without breeding programs the overall breeding stock would collapse. The Silver Fox breed is currently rated as "critically rare" by the American Livestock Breeds Convservancy (ALBC)
Ecologically, rabbits are one of the best methods to farm protein because the feed conversion ratio (the amount of feed relative to the amount of product harvested) is better than many other protein sources. The Live Weight FCR is how many kg of feed are required for 1 kg of live weight (on the hoof weight), Edible FCR is how many kg of feed are required for the usable protein product after all skin, scales, intestines, etc. are removed. If we want be more Eco-friendly than rabbits we need to move to eating more fish and insects.
Rabbitry at Triple Creek Farms
The Silver Fox rabbits raised at Triple Creek Farms are all registered and Pedigreed through the Silver Fox Global Pedigree Project. We have two breeding bucks and maintain two separate bloodlines for breeding purposes. Typically we have about 8 does that are bread several times during the spring and summer. Does that do not meet the breeding standard are harvested, along with the majority of bucks.
We do not use antibiotics, growth hormones or other chemicals on our rabbits. Breeding bucks and does are kept in separate cages while weaned rabbits enjoy a large rabbit run.